Call the show at 212-974-3145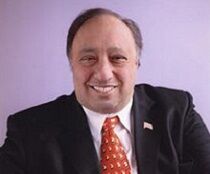 The Cats Roundtable with John Catsimatidis
John Catsimatidis, a true self-made billionaire, philanthropist, and former NYC mayoral candidate, talks with some of the nation's top newsmakers every Sunday morning on The Cats Roundtable. From politics to pop culture, Senators to media personalities, John gets to the heart of what's really going on in politics, business, science, and the world!
Show Links:
---
Now, four decades later the Red Apple Group has evolved into a diversified corporation that has holdings in the energy, aviation, retail and real estate sectors and over 8,000 employees, with approximately 2,000 located in New York City. John and his wife Margo Catsimatidis live on Manhattan's Upper East side and are parents to 2 grown children; Andrea and John Jr.
John is a firm believer in giving back to the community and has been a strong supporter of the Police Athletic League for nearly 30 years.
He serves on the Board of Columbia Presbyterian Hospital, the Hellenic Times Scholarship Fund, and over the years served in a variety of volunteer positions in the Greek Orthodox Church.