Lessons In the Ladder Days with Candace Long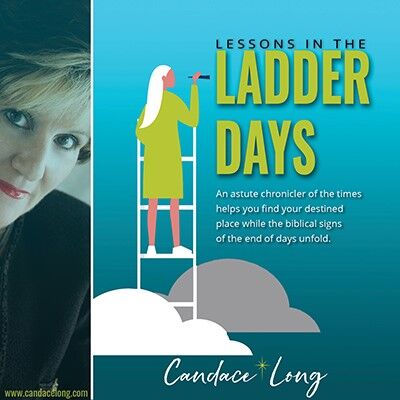 Candace Long is an "End Times Navigator" who has been studying the biblical signs of the end of days for over 30 years. When she realized we are actually living in these times, she began this increasingly popular radio show that is drawing listeners from all over the world. Each program represents months and even years of research and offers you astute commentary on current affairs in light of God's biblical timetable.
In 2012, God called Candace to learn to fly in her 60's. At the time, she didn't understand why. Over the years, she developed her navigational skills and finally earned the coveted Instrument rating – meaning she is licensed to fly through clouds. Still unclear of her mission, she would often put the plane on autopilot and pray for the people and towns below as she flew from Georgia to her job in Washington DC.
Suddenly, without warning, the desire to fly left and she sold her plane in 2019…still asking, "Lord, what was all this about?" In 2020, as the vision for Lessons in the Ladder Days was forming, the answer finally came. She explains, "I realized that for 7 years God was vetting me to see if I qualified to teach His people how to navigate these end times when we cannot see the way.
I teach listeners to use spiritual gauges and navigational instruments most Christians never knew about. Basically, I show people "the end from the beginning" from 10,000 feet in the air. The Father has given us everything we need to ride out the turbulence and use the biblical signs as beacons so that we can land safely in the Kingdom."
Lessons in the Ladder Days began in 2021 with radio stations on her regular flightpath along the Appalachian Mountains and is now expanding into other major markets in the East.
At the core of her teaching is that we are living in the midst of a paradigm shift: from the Church Age… to the Kingdom Age. No one has ever never walked this way before. The foundational principles you learn from each show provide great insight. Each on-air program may be part of a series, but you have access to all of her programs 24/7 at Lessons in the Ladder Days.
Show Links:
---