Call the show at 616-432-9949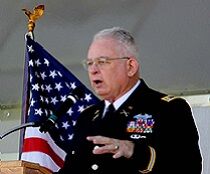 Frontlines of Freedom hosted by Lt. Colonel Denny Gillem, U.S. Army (retired) is a Military Talk Radio show, designed to address and discuss the most pressing topics facing our Armed Forces in a balanced manner, challenging conventional thinking. In addition to the current war and military readiness, the show addresses military families, veteran's activities and homeland security issues.
Sponsored By:
---
Denny graduated from the US Military Academy at West Point in June 1964 and was commissioned in the infantry. After military schooling he was assigned to Fort Carson, Colorado Springs, CO, where he served with the 5th Infantry Division, met and proposed to his wife, Marilyn, and volunteered for duty in Vietnam.