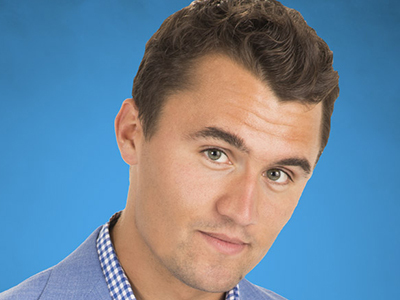 Charlie Kirk is the next big thing in conservative talk radio and he's now hosting a daily radio show called "The Charlie Kirk Show" on the Salem Radio Network.
The radio show can be heard on great talk radio stations all over the country. He also airs a daily podcast of the same name, which has become one of the top 10 news shows on Apple New Podcast rankings.
Show Links:
---
Charlie Kirk is the Founder and President of Turning Point USA, a national student movement dedicated to empowering young people to promote the principles of free markets and limited government. By giving speeches on college campuses, building a nationwide grassroots organization, and appearing on countless media outlets - Charlie Kirk is drafting a blueprint for freedom. He is empowering and activating a new wave of free thinkers who are breaking the mold, standing firm, and redefining the future of American conservatism.
---
Monday, October 18, 2021
SPECIAL TOUR CREDIT: This tour is made possible by a generous grant from Doctor Bob & the Shillman Foundation. #criticalracismtour #crt #biggovsucks.
---
Tuesday, October 19, 2021
Progressives dictating President Joe Biden's presidency have successfully placed the nation's first transgender four-star admiral. Admiral Rachel Levine was sworn in to lead the U.S. Public Health Service Commissioned Corps on Tuesday, which made her the nation's highest-ranking transgender official.
Admiral Rachel Levine will serve...